College of Public Health
Gina Osborne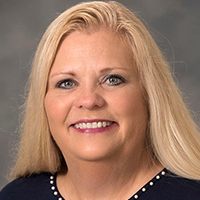 Gina S. Osborne
Contact:
423-439-4597 /
osbornegs@etsu.edu
Lamb Hall, Room 104
---
EDUCATION
Certified Administrative Professional (CAP), East Tennessee State University, 2007
Tennessee Center for Performance Excellence, Board of Examiners, Nashville, Tennessee
Business & Finance, Concentration in Real Estate, East Tennessee State University, Johnson City, Tennessee
Associate of Science, Business Administration, Draughon's College of Business, Johnson City, Tennessee
LICENSES HELD
Affiliate Broker of Real Estate in Tennessee (retired)
PROFESSIONAL EXPERIENCE
Office Coordinator, Office of the Dean, East Tennessee State University College of Public Health
First Tennessee Development District, Area Agency on Aging and Disability, Johnson City, Tennessee
Tennessee Department of Labor and Workforce Development
Business Support Specialist, Eastman Chemical Company, Kingsport, Tennessee
Elizabethton/Carter County Chamber of Commerce and Economic Development Commission
HONORS
ETSU Staff Senate
Dean's Special Recognition Award for Quality Improvement to ETSU College of Public Health, 2017
Outstanding Staff Award, ETSU College of Public Health, 2013
Who's Who among Business Professionals
Member of Tri-Cities Chapter of International Association of Administrative Professionals (IAAP); Served on Board of Directors as Secretary
Active Notary Public for State of Tennessee since 2009
BIOGRAPHY
Gina Osborne, CAP, is the Office Coordinator for the Office of the Dean of the College of Public Health at the East Tennessee State University. She has served in that capacity since November 2009. She previously served in the college as Executive Aide in the Department of Health Services Management and Policy. Gina serves on various committees in the college and the University. Upon arriving at ETSU, Gina served the State of Tennessee in areas of tourism, with the Economic Development Commission in Elizabethton/Carter County and with the First Tennessee Development District of Washington County Area Agency for Aging and Disability. Gina has also served in business administrative positions with Eastman Chemical Company and Nuclear Fuel Services, Inc. Gina is a native of the Tri-cities area. She enjoys spending time with her family and friends, boating, camping and soccer.